Welcome to the official site of the largest specialized supplier of garden machinery from the Czech Republic.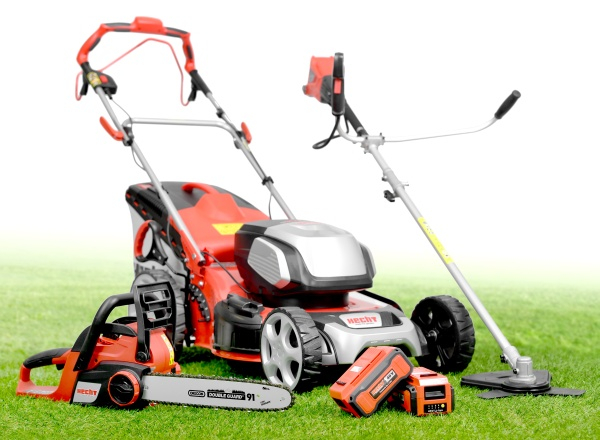 Last year was very successful for us because we were able to increase worldwide sales of more than 70%. We have become not only the largest specialized supplier of garden machinery in the Czech Republic and Slovakia, but also a strong player on the market with garden machinery in the EU. These numbers just confirm the quality and advanced level of our machines.
We also received many awards, for pole saw Hecht 975 W in December 2014 and then for sweeper Hecht 8101 in February 2015 and the newest is for Hecht 548 SWE in April, in tests of independent German company Heimwerker-test. These awards confirm the excellent quality of Hecht products directly to the most demanding market, thus in Germany.
In 2013 we achieved great success with our petrol lawn mower HECHT 548 SW 5 IN 1 in tests of petrol lawn mowers with a 46 cm (18") cutting width. The test was provided by the independent consumer test magazine "D-TEST", published in the 3/2013 edition – Results of this test are available on the D-TEST website.
To improve overall comfort of HECHT 548 SW we' ve added an electric battery starter. This design is unique, because the battery is discretely placed inside the top handle panel, protected from moisture and direct sunlight. This aesthetic solution does not effect the smooth design of the lawn mower. The battery design is patented.
So now is the lawnmower fully comparable with much more expensive lawnmowers. To go beyond the starter, we listened your numerous wishes, and designed and patent-protected also new pattern of wheels. Wheel pattern is designed to prevent maximally slipping on the grass, while offering as clean as possible wheel all the time of use – when on the sample gets the grass or other impurities, the wheels are designed so as to get rid them themselves. Newly we offer this type of lawn mower with width up to 56 cm, with electric starter, which is unique. Due to large width of the mower, it´s almost comparable in speed mowing area with modern riders. Of course we prepare for you in year 2015 more news and innovation. You can find them on this website.
Our aim not only for the year 2015, but to the future too, is offer quality range of products with individual customer approach, high level consulting and 100 % sale and after sale service corresponding to the demands of the 21st century. We and our whole company HECHT MOTORS believe and wish, you choose from our Hecht range the best one product, which helps you and makes your work on garden or at forest more pleasant for you.