HECHT CITIS MAX BLUE - electric mobility scooter
HECHT CITIS MAX BLUE - electric mobility scooter
Electric mobility scooter for the elderly and people with reduced mobility. El. motor 800 W. Battery 60 V / 20 Ah. Max. speed 25 km/h. Range up to 60 km. Celý popis ▼
Product code: HECHTCITISMAXBLUE

Product description
Benefits:
Electric scooter-tricycle
Especially suitable for older persons and persons with reduced mobility
Very comfortable saddle with sliding backrest
3 speed modes
Maximum speed 25km / h
Legal for use on public roads
Range up to 60km
Reverse speed function including acoustic signaling
Plenty of storage space
Thanks to its stability, easy maintenance and control, the electric scooter - tricycle will be appreciated not only by people with reduced mobility. A comfortable adjustable (sliding) seat with armrests ensures a stable seat for the driver and comfortable driving. All controls are located on the handlebars, so the scooter can be safely operated by people with reduced mobility of the lower limbs. For the left handle, it is standard control of lights, turn signals and horn, for the right handle, these are functions that are no longer so common with scooters. For example, it is a speed limiter switch. This makes it possible to set the maximum speed to 15, 20 or 25 km / h. Of course, there is also a button that can be used to activate reverse. Undoubted advantages are also high reliability, easy maintenance and low operating costs. The tricycle is homologated for operation on public roads. Driving license of the AM group is sufficient for its driving.
The switch box is located on the right under the handlebars. The lock is equipped with a metal flap that prevents anyone from damaging the lock. It cannot be opened without the original key.
The delivery also includes a lockable box which can be easily attached to the back of the backrest. The box is delivered for FREE.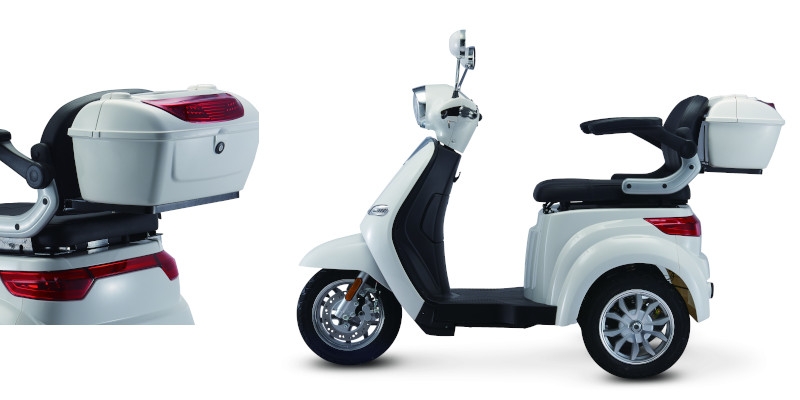 In case the driver needs to carry a stick we recommend purchasing a set of M9GLC tool holders (5 pcs in a package) and attach a pair of these holders along the seat under the handle.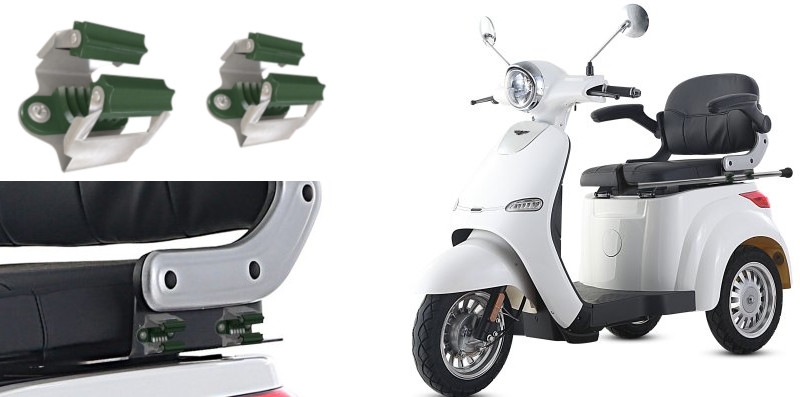 The maximum range data gives an approximate value that can be achieved under absolutely ideal conditions. In practice, the range is largely influenced by the weight of the driver and other loads, elevation exceeded when driving, weather conditions, road conditions, driving style, frequency of starts (for example at intersections), tire condition (especially inflating), battery condition and many other factors. In extreme conditions, the range can be reduced to less than 50% of the stated value.
Read more
Parameters
| | |
| --- | --- |
| Max. speedy (km/h) | 25 |
| Maximum range (km) | 50 |
| Maximum engine power (kW) | 0,8 |
| Color | Modrá metalíza |
| Počet baterií | 5 |
| Charging time (hod.) | 8 |
| Rated motor power (kW) | 0,8 |
| Battery capacity (Ah) | 20 |
| Battery - rated voltage (V) | 60 |
| Battery type | gel accumulator |
| Homologace pro provoz na silnici | Ano |
Číst více