HECHT CITIS MAX WHITE - electric mobility scooter
HECHT CITIS MAX WHITE - electric mobility scooter
Electric mobility scooter for the elderly and people with reduced mobility. El. motor 800 W. Battery 60 V / 20 Ah. Max. speed 25 km/h. Range up to 60 km. Celý popis ▼
Product code: HECHTCITISMAXWHITE

Product description
Benefits:
Electric scooter-tricycle
Especially suitable for older persons and persons with reduced mobility
Very comfortable saddle with sliding backrest
3 speed modes
Maximum speed 25km / h
Legal for use on public roads
Range up to 60km
Reverse speed function including acoustic signaling
Plenty of storage space
Thanks to its stability, easy maintenance and control, the electric scooter - tricycle will be appreciated not only by people with reduced mobility. A comfortable adjustable (sliding) seat with armrests ensures a stable seat for the driver and comfortable driving. All controls are located on the handlebars, so the scooter can be safely operated by people with reduced mobility of the lower limbs. For the left handle, it is standard control of lights, turn signals and horn, for the right handle, these are functions that are no longer so common with scooters. For example, it is a speed limiter switch. This makes it possible to set the maximum speed to 15, 20 or 25 km / h. Of course, there is also a button that can be used to activate reverse. Undoubted advantages are also high reliability, easy maintenance and low operating costs. The tricycle is homologated for operation on public roads. Driving license of the AM group is sufficient for its driving.
The switch box is located on the right under the handlebars. The lock is equipped with a metal flap that prevents anyone from damaging the lock. It cannot be opened without the original key.
The delivery also includes a lockable box which can be easily attached to the back of the backrest. The box is delivered for FREE.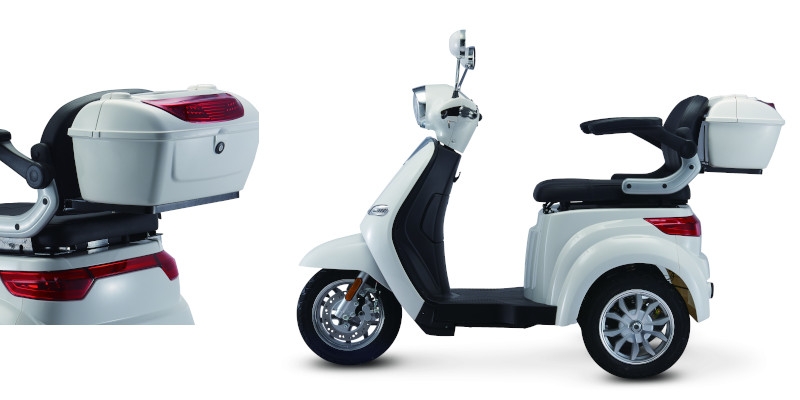 Pro případ, že řidič potřebuje převážet hůl, doporučujeme zakoupit sadu držáků nářadí M9GLC (5 ks v balení) a dvojici těchto držáků uchytit podél sedačky pod madlem.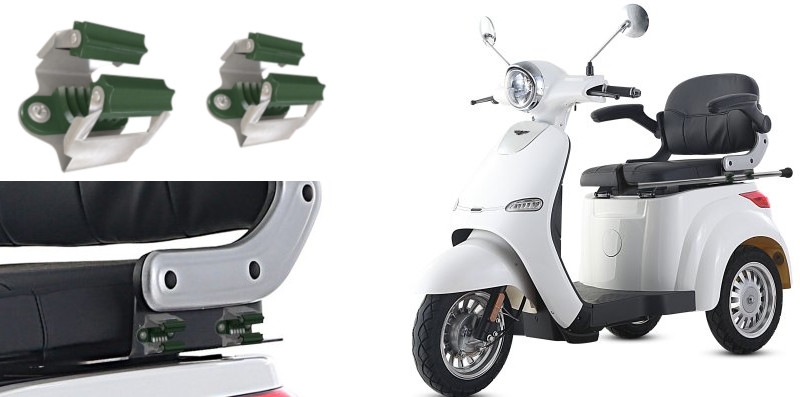 Údaj o maximálním dojezdu udává orientační hodnotu, jaké je možné dosáhnout za naprosto ideálních podmínek. V praxi je pak dojezd do značné míry ovlivněn hmotností řidiče a dalšího nákladu, výškovým převýšením překonávaným při jízdě, povětrnostními podmínkami, stavem vozovky, způsobem jízdy, četností rozjezdů (například na křižovatkách), stavem pneumatik (zejména jejich nahuštění), kondicí akumulátorů a mnoha dalšími faktory. V extrémních podmínkách se tak dojezd může snížit i na méně než 50% uváděné hodnoty.
Read more