Petrol Bar Mowers
Powerful string mower with wheels, with a reach of 56 cm. Four-stroke engine with a capacity of 174 cm3. Large 14 "wheels.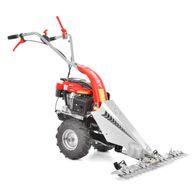 Petrol bar mower. Working width 87 cm. Weight 57 kg. Cutting height adjustment from 15 to 90 mm.
Motorová bubnová sekačka na trávu se záběrem 60 cm. Motor o objemu 173 cm3 s jmenovitým výkonem 3,6 kW. S pojezdem. Sekačka je vhodná pro sečení ploch do cca 2000 m2.